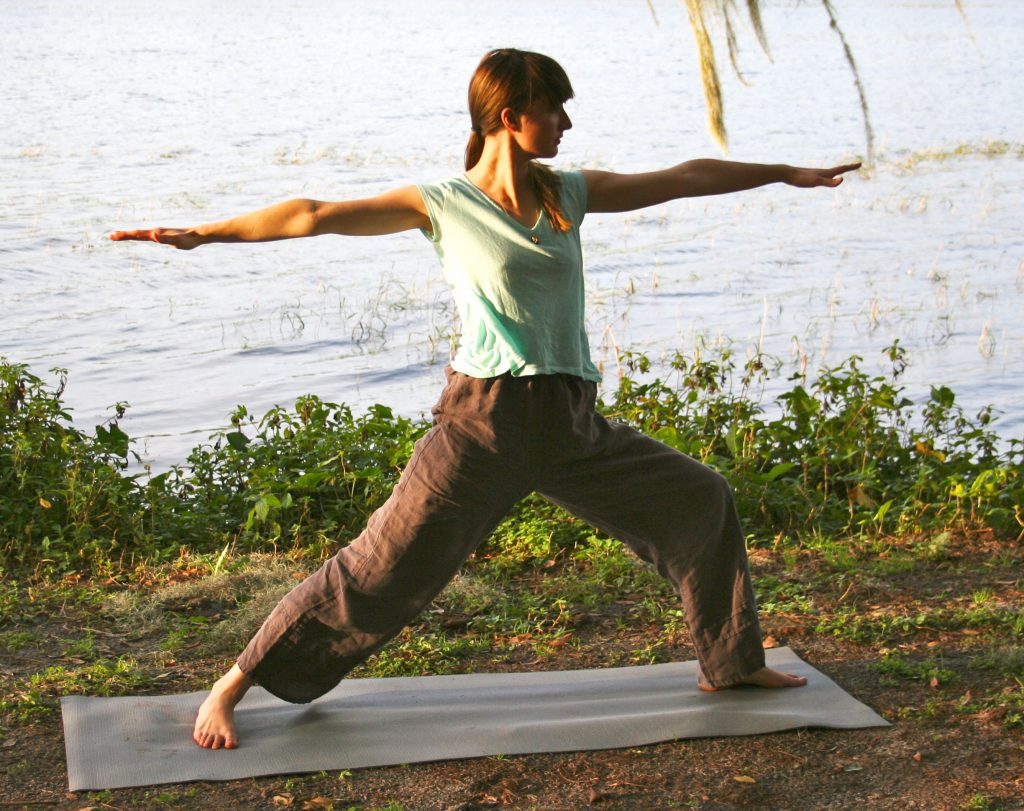 ---
This week I am excited to be featuring a fellow Buckeye, Maggie Fekete, RDN, LD, CHC, RYT. She has had a diverse career so far and has gained experience in many areas of nutrition and wellness. We worked together at Florida Hospital Orlando, where I got to see what a kind, passionate, dedicated person she is– and also got to take one of her yoga classes in a local park!
Maggie, tell us about your educational background, what you're doing now, and the path you've taken along the way.

I completed my Bachelor of Science in Dietetics at the University of Cincinnati in the spring of 2008. That summer, I returned to Columbus, Ohio—my hometown—to complete a Graduate Dietetic Internship Program in Human Nutrition at The Ohio State University. One year later, I reached my goal and became an RD after passing my registration examination. Since then I have practiced in North Carolina, Florida, South Carolina, and Ohio. I have worked with individuals of all ages, from newborns to the elderly, with a diverse spectrum of needs and conditions.
My personal desire to understand health and counseling led me to complete the Certificate of Training in Pediatric & Adolescent Weight Management and the Certified Health Coach Training Program with the State University of New York, Purchase College. I now practice as a Board Certified Holistic Health Practitioner.
Culinary preparation goes hand-in-hand with healthy eating, and holds a special place in my heart. I now offer Personal Chef services—planning, shopping, and preparing healthy, balanced meals and snacks for my very busy clients, including special events.
As a way to stay fit mind, body, and soul I completed a 200-hour Yoga Teacher Training Program in Orlando, Florida. I am currently registered with Yoga Alliance as a Registered Yoga Teacher. I have been passionate about yoga for over 13 years and continue to practice daily.
I current work in Private Practice and have since January 2013. I assist my clients in discovering their best life through Health & Nutrition Guidance, Personal Chef Service, and Yoga.
What's a day in the typical life of Maggie?
I have no typical day, which is what I love most about my private practice! I provide services all over Columbus, Ohio. Each day I teach different styles of yoga, guided relaxation and meditation, provide nutrition and health education, and prepare delicious meals for my clients. My clients range from 1st graders to centenarians.
What got you interested in the field of nutrition?
My interest for nutrition began with my first nutrition course at the University of Cincinnati in the winter of 2005. I began to improve my health, and the health of my friends and family, through my sincere passion for nutrition. In autumn of 2005, I was officially accepted to the College of Allied Health Sciences with the dream of becoming a Registered Dietitian.
What made you want to become an entrepreneur? Do you have any advice for someone who wants to start their own business?
Prior to even becoming a Registered Dietitian, my goal was to end up in private practice as an entrepreneur. I wanted to be able to provide my clients with the time and service they needed to discover their best life.
Starting a business requires a high degree of personal organization and self- confidence. The Institute of Integrative Nutrition (IIN), with the State University of New York, Purchase College, provided me with the support and strength to establish my own private practice, teaching counseling and coaching skill to positively affect behavior change and the development and growth of a business in nutrition. If you are a dietitian in need of continuing education units and feel you could benefit from their program, I highly recommended IIN. My time spent engaged in their program was one of the most rewarding experiences in my life thus far. I am always willing to discuss IIN with any prospective student.
What is your favorite part of your day as an RD?
I truly love every part –I have no favorites. Loving every minute of what you do for a living is hard to find and I feel blessed.
What is the biggest challenge of being a dietitian in your field?
I believe the biggest challenge is having an effective advertising and marketing plan to spread awareness of your products and services to your target audience. This is an art and a job in itself to say the least.
The question everyone wants to ask an RD: do you follow any certain diet?
I follow a dairy-free, gluten-free, and soy-free way of eating to avoid unfortunate side effects. I primarily consume certified organic whole foods and local whenever possible.
What is your favorite meal to make at home?
Recently, I have been making homemade organic soups for my personal chef clients such as Rustic Harvest Butternut Squash Soup and Carrot Ginger Soup- absolutely delicious, and warming to the heart and soul, especially during the extremely cold winter weather we've been having this year!
What diet fad do you wish would disappear?
To be honest I am not a fan of any diet. If you don't have to follow one for medical reasons then life should not be about deprivation. With a little bit of time, energy, and support one can learn how to live diet free for life.
Is there any food or nutrition related book or documentary do you think everyone read or watch?
A wealth of valuable resources are available from a vast number of knowledgeable perspectives. In my experience, finding your own path – what works best for your personal needs – is what is important. I have had the unique position of observing how remarkably different nutritional needs vary between individuals.
What is the top tip you give your clients?
With the right recipe, the healthiest foods taste the most delicious.
What is your favorite place to go or thing to do in your city?
I absolutely enjoy being outdoors. My favorite local trails are the trails most accessible for a refreshing afternoon hike. I have come to genuinely appreciate our Columbus Metro Parks!
What would you say to someone interested in becoming an RD or getting into the field of nutrition? Any advice or caution?
Follow your heart and intuition. Start in the area of practice that resonates well with you. Life is too short to follow someone else's direction or to start in an area of nutrition that is not where your heart is.
Thank you Maggie for being part of the Dietitian Spotlight Series!
Be sure to connect with Maggie:
Phone: (614) 719-9616
Email: MaggieFekete@aol.com
Website: MaggieFekete.com
Facebook: Facebook.com/MaggieFekete
Twitter: @MaggiesPractice
Private Practice Address: 36 North Liberty Street, Powell, Ohio 43065
For more interviews with RDs around the country, click here.