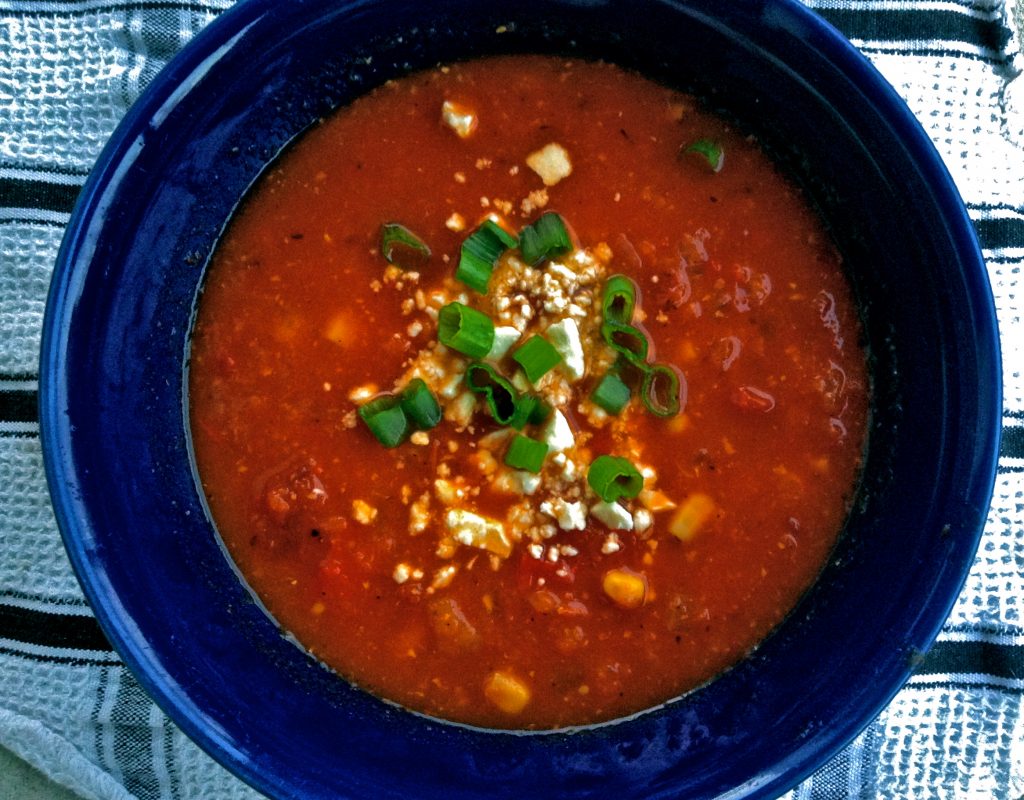 ---
I've gotta get at least one (or two or three) more good soup recipes in before the weather heats up here in The Woodlands! I'm a very seasonal eater, I like soups when in the fall and winter and salads in the spring and summer. My recipe tester has started calling me "The Soup Master" and I can't help but to use my new favorite kitchen tool– the food processor (NINJA) to create these lovely and filling meals in a bowl. Not to mention, with soups I always make more than necessary so there's leftovers for lunch the next day– or maybe even another dinner. If you're looking for a perfect dinner on this chilly Meatless Monday, look no further:
Fire Roasted Red Pepper and Corn Chowder
Serves 6 in one hour
3 bell peppers, halved and seeded
2 and 1/2 cups fire roasted corn, thawed if frozen*
2 fifteen ounce cans of fire roasted diced tomatoes
2 tablespoons extra-virgin olive oil
2 medium onions, diced
6 cups of water
6 teaspoons of vegetable base or 6 cubes of vegetable bouillon
1/4 teaspoon garlic salt
1/4 teaspoon freshly ground pepper
1/2 teaspoon crushed red pepper
1/4 cup crumbled feta cheese
Chopped fresh chives for topping
1. Preheat oven to 450 degrees. Flatten and arrange peppers skin side down on a baking sheet sprayed with non-stick cooking spray. Bake until skin becomes charred, turning once or twice during baking. Make sure to keep an eye on the peppers– they can quickly go from perfectly roasted to burnt to a crisp! Remove peppers from heat and let cool.
2. Heat oil in a large saucepan over medium heat. Add onion and cook until tender, stirring occasionally. Coarsely chop peppers and add to saucepan along with tomatoes and corn. Add water and bouillon then increase heat to high and bring to a boil.  Reduce heat and simmer for 30 minutes. Remove from heat.
3. Once mixture is slightly cooled, place about 1/2 of it (depends on desired consistency) into a blender or food processor and process until smooth. Add back to pan, season with pepper and garlic salt and reheat if needed. Serve in bowls topped with feta cheese and chives.
*Available at Trader Joes. Regular canned or frozen corn will work just as well.