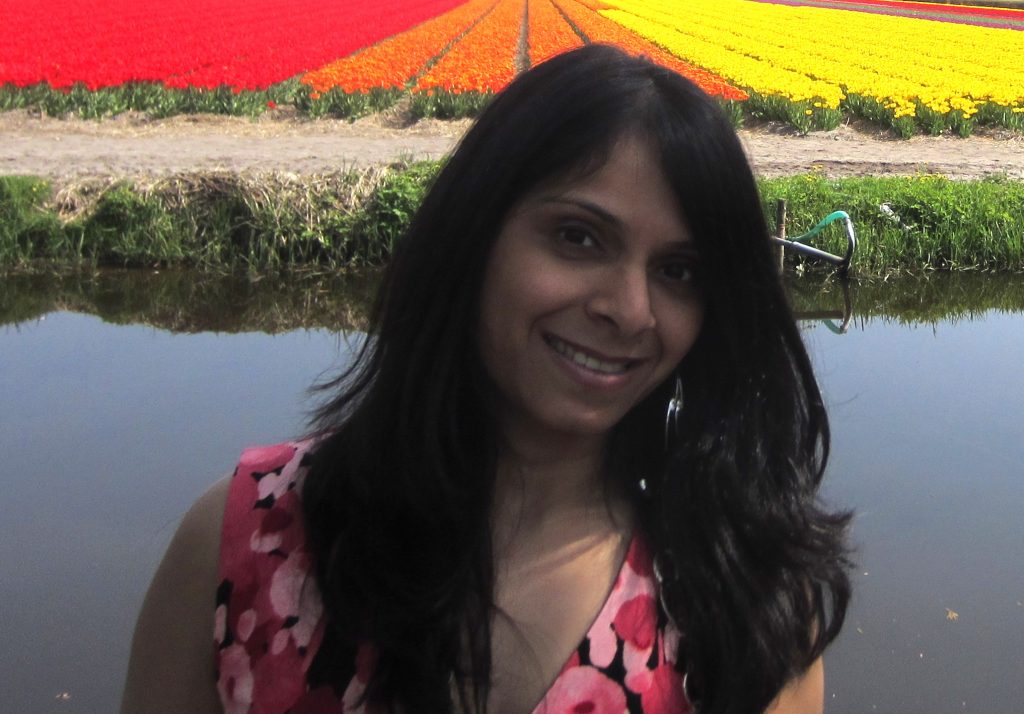 ---
Meet this week's Dietitian Spotlight focus: Zarana Parekh, RDN, CSP, LD. She was born and raised in India and after spending 7 years as a practicing dietitian, she followed the love of her life to the US. She moved to Dallas and studied Clinical Nutrition at the UT Southwestern Medical Center and got her RDN (Registered Dietitian Nutritionist) and CSP (Board Certified Specialist in Pediatric Nutrition) certifications.  Over the last 15 years, she has travelled the field of nutrition working in pediatrics, acute care, long-term care and weight loss.  Since 2010, she has been working with renal patients and this year she is working on setting up a private practice to help individuals achieve their healthy lifestyle goals.
 What's a typical day like for you Zarana?
I am a wife and a working mother of a 6-year old son.  A typical day starts with getting some exercise and preparing healthy lunch for my kiddo.  At work, I educate my patients on managing their labs and motivate them to lead healthy lifestyle.  I incorporate fun ways to educate my patients like playing Phosphorus/Sodium Bingo that reinforces wise food choices.  At home, I love to spend time with my family – we cook healthy meals together, play games and live an active lifestyle. I also love practicing Zumba to keep me fit as well as sharpens my dancing skills!
 What got you interested in the field of nutrition?
My love for food and how it connects people…  Food illustrates festivals/holidays, food can cure, and working with food is fun.  At home, I saw my parents practice use of household food as remedies for common ailments.  I was just amazed by the power of food. Gradually this interest kept growing as I learned about the science of nutrition. Over time, I decided to turn my passion for nutrition into my profession.
Having worked in many areas of nutrition, what was your favorite job position or area that you've worked in?
Hard to say!! The best part of working as RDN is to help people achieve their own health goals. In my counselling sessions I focus a lot on healthy lifestyle to prevent diseases/complications. It gives me a great sense of accomplishment when I know that I made a difference!
What is pushing you to start your own practice and become an entrepreneur?
I strongly believe that food plays a key role in leading healthy life style.  I see that lot of people are becoming aware of and wanting to make healthy food choices, but are either confused or at times fearful of making changes because of conflicting information around us.  There is also a myth out there that if it is healthy food, it must not taste good.  My private practice, Nutrilicious by Z, was formed based on the philosophy "Let's make delicious food choices nutritious".  Food touches our body, mind and soul.  There are many diet plans out there to support temporary goals, but what is missing today is connecting our foods to our mind and soul to create sustainable food choices.  Listen to your heart about what you like and to your body about what you need and I'll work with you to find the balance of both.  In nutrition there is no one choice fits all.  I am also a strong advocate of adding exercise to our daily lifestyle.
What is your favorite part of your day as an RD?
My favorite part is talking to patients and getting to know about their needs and challenges. I love educating and motivating them on creative ways of making healthy food choices every day to improve their health, manage diseases, and prevent onset of other diseases.
What is the biggest challenge of being a renal dietitian?
The renal diet is one of the most restrictive diets and on top of it many of my patients have several other chronic diseases such as diabetes, high blood pressure and heart problems which further reduce their food choices.  The biggest challenge is to keep them motivated to adhere to those food choices.
Do you follow any certain diet?
Yes and no…  Yes, I create food choices that my family can sustain, but no, we don't follow a specific diet plan. The key is to eat a balanced diet with variety of foods in moderation.  Cupcakes are hard to say no to.
What is the most memorable meal you've ever had?
Anything that my mom cooked.  The most memorable is a ball-shaped sweet (Laddu) eaten with spicy garlic lentil soup.
What diet fad do you wish would disappear?
I wish carbohydrates would be spared from being labeled as BAD for health. Not all carbohydrates are bad. Our body needs carbohydrate for fuel. Making right choices with whole grains, legumes, fruits and vegetables is important.
What is the top tip you give your patients/clients/friends?
I believe in all-food fit philosophy – I always tell people that most everything can be included in our diets in moderation. There is no one super food/pill that can give you every nutrient, so include variety of foods.
What is your favorite place to go or thing to do in your city?
My husband and I are food enthusiasts – we like to try different cuisines and are blessed with quite a few choices in Dallas.  The next thing we do is try to incorporate our tastes into those dishes at home.
What would you say to someone interested in becoming an RD or getting into the field of nutrition? Any advice or caution?
The field of nutrition is one of the ancient professions and yet still evolving.  Food is and will always be at the center of our lives.  If you love your food; if you love meeting and spending time with people; if you believe the field of science can be creative, this is the field for you.  Above all if you have passion for food, this can be your profession.
Thank you Zarana for being part of my Spotlight Series. Congratulations on starting your own company, Nutrilicious By Z!