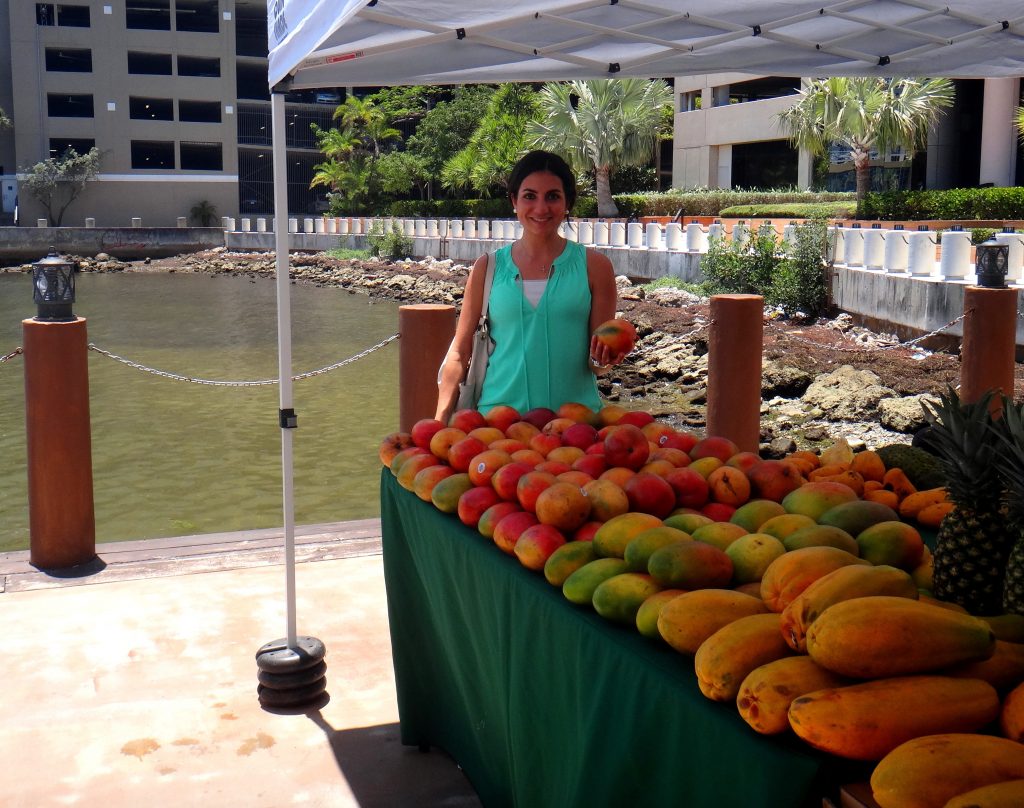 ---
This week the spotlight is on my dear friend Lucette Talamas, who I met and worked with while I was living in Orlando, Florida. Lucette has an extremely versatile (and busy!) career in dietetics as a community health dietitian for Baptist Health in the Miami area. Her job entails a little of everything— public speaking, networking, presenting, media and more!

Lucette, I know a lot of people interested in the field of nutrition would love a job like yours! Tell everyone about how you got where you are today.
I started my journey at University of Florida (Go Gators!), graduating cum laude with a degree in Food Science and Human Nutrition with a concentration in dietetics.
I completed my dietetic internship through Andrews University at Florida Hospital Orlando. During my internship, I applied to a clinical dietitian opening there and was offered a job as Registered Dietitian Eligible, therefore, was expected to pass the national RD exam within a specified time which I thankfully did. I worked as a clinical dietitian for about 1.5 years until deciding to move back to my native Miami to be closer to family. I did not move until I received a job offer at my current position as a dietitian in the Community Health department at Baptist Health South Florida.
I left Orlando with a firm clinical foundation that developed during my internship and working experiences and was ready to start a new chapter in the outpatient community setting. It's been almost 2 years in this position where one of my main responsibilities is planning, composing and presenting nutrition educational programs in South Florida, over 70 in the past year! I also serve as a nutrition liaison between internal and external contacts in handling the many community nutrition requests that come in. Requests vary in topics and audiences – from nutrition and chronic disease, nutrition and exercise, or general healthy eating for audiences of children, adults or seniors. Requests may also include interviews for local radio and TV stations or composing nutrition educational pieces.
What got you interested in the field of nutrition?
I actually started off as a pre-pharmacy student. After working at a pharmacy during my time at UF, I realized that I was more interested in my pre-professional track of nutritional sciences. I was (and still am) completely fascinated by the fact that food was science. My career in dietetics was one of my best decisions made, prayerfully, as I am passionate about helping others have a healthy lifestyle focused on prevention and management of disease through nutritious changes.
What is your favorite part of going to work everyday?
My favorite part of going to work everyday is that there is never a dull day in the life of a community health dietitian! Every day, every week is different. From meeting with coworkers to plan next quarter's programs, collaborating with internal or external partners for programs, composing nutrition educational programs to meet all types of audience's needs, attending health fairs to give away free fruits and vegetables or doing interviews for local radio or TV stations.
What is the biggest challenge of being an RD in your field?
My favorite part of my job, ironically, is the challenges. Challenges push me to work harder while proper planning and research are key in meeting challenges. One of the biggest challenges I face as a public speaker is to be ready to present on any number of nutrition-related topics (If you were wondering, I never in my life planned to be a public speaker)!  For example, in the same week, I may speak to high school athletes about proper nutrition, then to marathoners about fueling for their run, and then a presentation in Spanish for adults about nutrition and diabetes. Audience sizes can vary from 20 to 300+.The further challenge is to be educational, yet engaging and motivational – which I've found is possible through a firm knowledge in dietetics obtained through evidenced-based practices mixed with a bit of humor, practicality and a large dose of creativity.
Do you follow any certain diet?
My eating style is a marriage of Flexitarian and the Exchange List system.
Trust me guys, Lucette practices what she preaches! I've had some amazingly flavorful meals at her kitchen table. What is one food you couldn't live without?
Fruits, vegetables, and dark chocolate!
What is the top tip you give your patients/clients?
Have realistic expectations and set attainable goals– and not all carbohydrates are evil.
What is your favorite place to go or thing to do in your city?
I love trying out local restaurants. Miami is full of many ethnic restaurants bursting with culture and flavors. I enjoy the outdoors, particularly anything related to the ocean or checking out a local farmers market. I also like touristing around Miami with friends from out-of-town. It was during one of these adventurous visits that Megan and I went paddle boarding in Biscayne Bay to Vizcaya!
What advice would you give someone interested in a career in the nutrition field?
Ask questions, research the career, find volunteer opportunities in the field, and speak to dietitians. If already in college, seek counsel from advisors or professors. One of the best advice I received as a student was to begin my career as a clinical dietitian. I can confirm that as truthful advice, for many reasons, and gladly pass it on.
I would definitely agree that starting out as a clinical RD gives you a great foundation for a career in dietetics, no matter where you want to end up. Thank you Lucette for being in the spotlight this week and giving everyone a glimpse into the career of a community RD!
If you're a dietitian and interested in being featured in the Spotlight Series, contact me at nutritionawareness@orlandodietitian.tin.