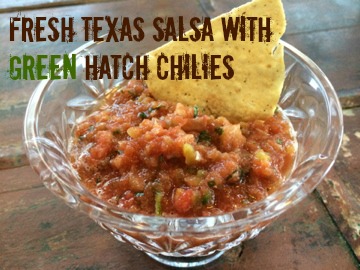 ---
Have you ever heard of green hatch chiles? I hadn't until I moved to Texas, where HEB Central Market has a Hatch Chile Festival every year celebrating the little spicy green peppers grown only in Hatch, New Mexico. Since they're not in season now, I found a canned version at Trader Joe's but you can sub any kind of green chiles in this zesty salsa recipe.
Fresh Texas Salsa
1 10-ounce can of diced tomatoes (I like to use fire-roasted)
1 small onion, peeled and quartered
1 seeded jalapeno
2 cloves fresh garlic
1 4-oz can hatch chilies or fire roasted green chilies
1/4 cup cilantro
1 lime, peeled and quartered
1 tablespoon sriracha
1 teaspoon cayenne pepper
1. Add all ingredients into food processor and pulse until desired consistency is reached (I like mine a little chunky, so 3-4 pulses worked for me).