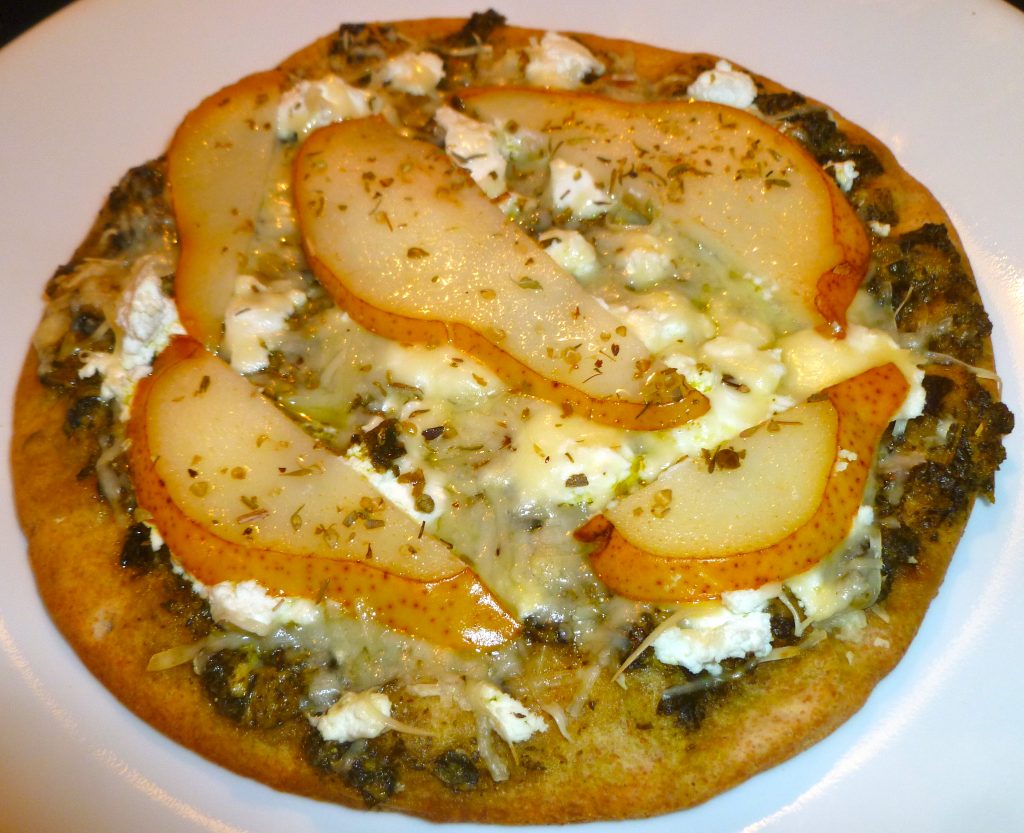 ---
An amazingly simple and delicious variation on your regular pizza…
Pesto, Pear and Goat Cheese Mini Pizza
1 small whole grain pita or pizza crust
1-2 tablespoons prepared pesto sauce, or whip up your own
2 oz goat cheese
5 paper thin slices of a ripe pear
Dried oregano, to sprinkle
Fresh parmesan cheese, to sprinkle
1. Preheat oven to 400 degrees (or according to pita or pizza crust package). Spread the pesto sauce over the pita with the back of a spoon. Top with goat cheese and layer pears overtop. Sprinkle with oregano and parmesan as desired. Bake for 8 minutes or until crust is crispy.
You can make a million different variations with this easy recipe, like my  version with diced tomatoes and black olives. 
Add some fresh arugula or spinach on top for extra green power (more greens= more nutrients) and switch up the cheese (asiago, fresh mozzarella, gorgonzola, feta…. oh the possibilities!).
Making mini pizzas ensures proper portion control and keeping these ingredients (or your own favorite pizza toppers) on hand, you can whip up a healthy meal in under 15 minutes.
*Bonus tip: Involve the kids and let the kids pick their own toppings.
Recipe by Megan Ware, RDN, LD. Registered Dietitian Nutritionist in The Woodlands, TX.