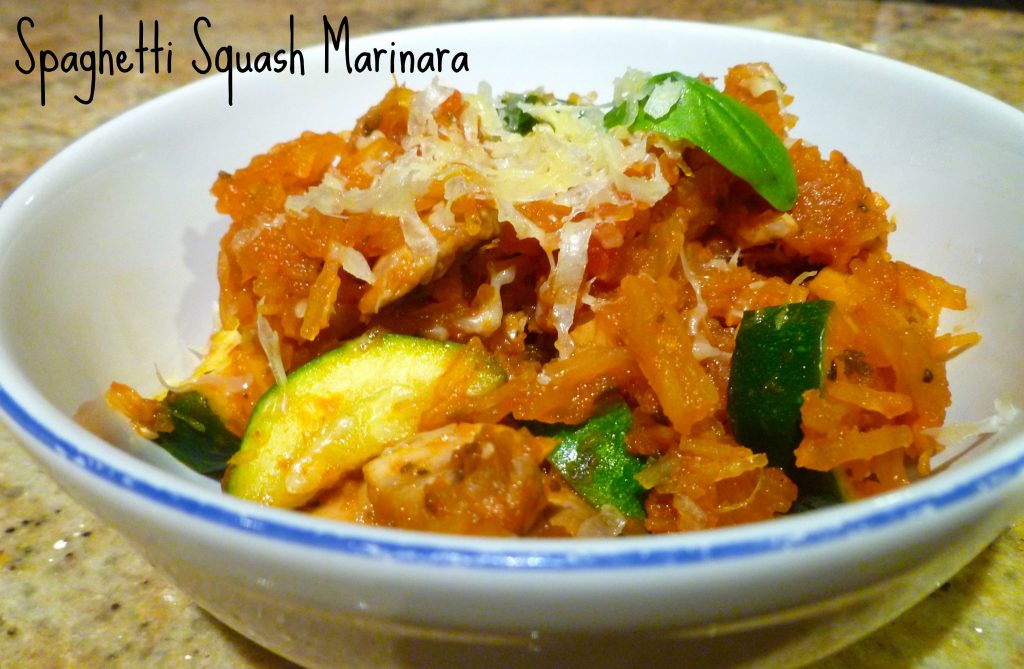 ---
Spaghetti squash is a fun and easy way to enjoy pasta without the guilt. The strand-like vegetable serves the same purpose as noodles with half the calories and carbs as pasta. If you've never made it before, now is a great time to get familiar with this vegetable and add it to your routine for a quick way to get in loads of veggies at one meal. Bonus if you have kids and can get them to help– they'll love peeling back the layers of "spaghetti!"
Spaghetti Squash Marinara
Recipe serves at least 4, depending on the size of the squash
1 jar of marinara
1 small to medium spaghetti squash
2 cups sliced mushrooms
1 medium zucchini,sliced
2 garlic cloves, diced
6-7 leaves of fresh basil, chopped
freshly grated Parmesan to taste
1. Poke holes in spaghetti squash and microwave until soft enough to cut in half (about 10- 15 minutes). Meanwhile, preheat oven to 350 degrees.
Once cut in half, scoop out the seeds and drizzle olive oil over inner parts of squash and bake for an additional 20 minutes or until squash easily flakes out of shell with fork.
2. While squash is baking, heat 1/2 cup of marinara sauce over medium heat in a large sauce pan. Add garlic, mushrooms and zucchini and sautee until tender. Once spaghetti squash is done, add to pan along with the rest of marinara and chopped basil. Stir until well combined and heated through.
3. Serve in bowls and top with freshly grated or shredded Parmesan cheese.
*Bonus Tip: Keep the seeds, wash and discard any extra flesh. Lightly spray with olive oil and sprinkle curry powder, cayenne pepper, garlic powder and sea salt. Bake for 20 minutes, turning seeds once in between baking. These seeds are packed with essential vitamins and minerals and make for a great salty snack.
By Megan Ware, RDN, LD. Registered Dietitian Nutritionist in Dallas, TX.