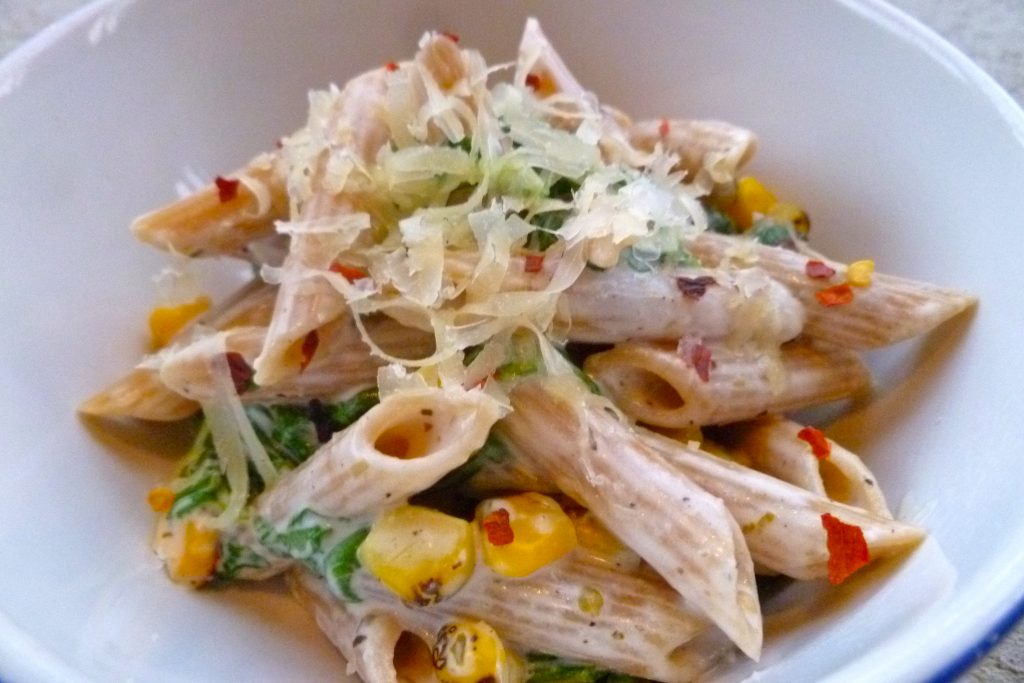 ---
I always tell my clients to steer clear of anything with cream sauce when dining out because they're loaded with calories and fat, but you can easily make a great tasting healthy cream sauce at home with about 5 ingredients. Skip the store-bought canned Alfredo because you know it doesn't taste that great anyway. Spend an extra 5 minutes and make your own and you'll also save a few bucks and impress yourself– who knew you could make such a great tasting healthy sauce with so little effort?
Fire Roasted Corn and Arugula Pasta with Cream Sauce
Makes 4 Servings in 30 minutes or less
1/2 box of whole grain penne pasta (about 7 ounces)
1 and 1/4 cup of frozen fire-roasted corn, thawed (regular is fine, the fire-roasted just adds another dimension of flavor to the pasta)
3/4 cup skim milk
3 ounces reduced fat cream cheese, cut into smaller pieces
1/2 teaspoon garlic powder
1/2 teaspoon dried oregano
1/4 teaspoon ground black pepper
3-4 loose cups torn fresh arugula
Crushed red pepper to taste
Fresh shredded Parmesan Reggiano cheese to taste
1. Boil pasta in water about 8 minutes. While pasta is boiling, in a large saucepan combine milk, cream cheese, garlic powder, oregano and pepper. Continue to stir until cream cheese is thoroughly mixed in. While pasta is still al dente, remove from water with a strainer spoon and add to sauce to continue cooking.
2. Add the corn to sauce and heat through. Add the torn arugula and stir until wilted. Serve in bowls and top with crushed red pepper and freshly shredded cheese.
Nutrition Facts (per serving):
Calories: 327
Total Fat: 7.0 grams
Saturated Fat: 3.3 grams
Polyunsaturated Fat: 0.5 grams
Monounsaturated Fat: 1.6 grams
Cholesterol:17.1 grams
Sodium: 110.9 grams
Potassium: 310.5 grams
Total Carbohydrate: 57.0 grams
Fiber: 7.8 grams
Sugars: 6.7 grams
Protein: 12.8 grams
Recipe by Megan Ware, RDN, LD. Registered Dietitian Nutritionist in The Woodlands, TX.