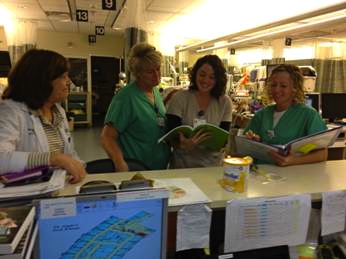 ---
This week the spotlight is on Kelly Ventresco, who I met in my internship at Mt Carmel College of Nursing. She is one of the most positive, hard-working girls I've ever met (I'm pretty sure she had at least 3 part-time jobs during our internship). Her constant smile and compassion for others make her a perfect fit for her role as the registered dietitian in the Neonatal Intensive Care Unit (NICU) at Mt. Carmel St. Ann's in Columbus, Ohio. Dietitians in the NICU are a vital part of the NICU team and help to provide the best possible nutrition for each baby. They often work with premature infants and those with special needs.
Kelly, tell us more about what you do and how you got there.
I received my undergraduate degree in Dietetics at Ohio University (O-U, Oh Yeah! Go Bobcats!). At St. Ann's I work mainly in the level III Neonatal Intensive Care Unit (NICU) and on the antepartum high risk (AHR) floor. I also cross cover for the adult units including medical and surgical ICU units, telemetry, and acute care units. Following the completion of my internship in spring of 2010 there was a job available for the NICU and AHR units so I went for it! Only having one day of NICU experience during my internship, I was very ambitious in the interview and luckily got the position. Since I did not get much exposure to these areas of nutrition during school or internship, I went to Nationwide Children's Hospital and Riverside Hospital in Columbus to train with their NICU RD's. I also joined the Ohio Neonatal Nutritionist (ONN) group and have learned from the best NICU RD's in Ohio.
In the NICU, I round daily with the interdisciplinary team consisting of the Neonatologist, Neonatal Nurse Practitioners, Nurses, Social Worker, Discharge Planner, and parents are also encouraged to participate. I calculate weight loss/gain, energy/protein and vitamin and mineral intakes, chart growth curves, and give recommendations to achieve optimal energy intake and weight gain. I also educate parents on mixing Mom's milk or formula for discharge as premature infants have higher calorie and protein needs that breast milk and/or formula cannot achieve. Rounds are my favorite part of the day, everyone knows they want to keep the Dietitian happy :). Not only is it a learning experience but I also get to voice my recommendations. Interdisciplinary team work is very important to give the best care for our patients.
What got you interested in nutrition?
I first got interested in nutrition while at OU-where I started as a Spanish Major. I got a job teaching group fitness classes at the recreation center and became interested in exercise and nutrition. I took an intro to nutrition class with Deb Murray-and decided I wanted to be just like her! I never really thought of myself as a "foodie" or health nut.  As I sit here now with my unsweetened almond milk, honey crisp apple, and all natural peanut butter, I think the field of dietetics has made a positive impact on my life.
What is the biggest challenge of being a dietitian in your field?
One challenge about being a dietitian in a NICU at an adult hospital is that you don't always have another RD to bounce ideas off of. I do have a great community of NICU RD's in the area however that is always willing to listen and give advice. I do get asked frequently if it's a sad unit to work on and sometimes it is sad. However more often than not I get to follow patients from day of life one to the day of discharge and seeing the joy in the families faces when they get to take their baby home is the most rewarding experience of my job.
What is the top tip you give your patients?
I see all kinds of patients with lots of different dietary needs so it's difficult to come up with one tip for so many different populations. The main question that as a dietitian you will always get asked is "How do you lose weight?" My answer is to count your calories and stop drinking regular soda pop and sugary drinks.
Do you follow any certain diet?
I follow a general healthy diet consisting of whole grains, fruits, vegetables, low fat dairy, and lean meats and protein-wow how dietitian-like of me. I do like to count calories and use myfitness pal to record daily intakes. I limit fast food restaurants and do go out to eat occasionally. Don't get me wrong, if you have McDonald's fries, I will be asking for a sample! I like all kinds of food and love trying new things, so I mainly focus on the more nutritious foods and eat in moderation.
What is one food you couldn't live without?
I could not live without peanut butter, smooth, crunchy, all natural, made with honey, powdered, JIF, Skippy, on a bagel, by the spoonful, on an English muffin, with pretzels, with an apple or banana, on a sandwich, in yogurt or ice cream, with chocolate mmm Reese Cup. Yeah, I really love peanut butter.
Haha, I love that. PB is pretty addicting. What is your favorite place to go or thing to do in your city?
I recently just found a new favorite place in Columbus called Weiland's Market in Clintonville. It's an independent and family owned grocery store and they have free coffee all the time! I also love the North Market, a farmers market in downtown Columbus. Yes my two favorite places in Columbus are grocery stores! Ahh the life of a dietitian.
I wish you could have seen my face the first time I walked into HEB Central Market here in Dallas. It was like I found my homeland. I wanted to take my parents there when they came to visit and they were like, "What? You want to take us to a grocery store??"
What advice would you give someone interested in a career in the nutrition field?
If you're interested in nutrition, I highly recommend becoming a Registered Dietitian and getting the education you need to be a credible source of information. Remember, anyone can call themselves a nutritionist but not everyone is a Registered Dietitian. A program that combines the undergraduate degree with the internship is your best bet.
Thank you for being a part of my Dietitian Spotlight Series and sharing your unique experience in the NICU! If you have any additional questions for Kelly, she can be contacted at Kv314905@gmail.com.
About the author: Megan Poczekaj, RDN, LD, is a registered dietitian nutritionist in Orlando, FL. She owns the private practice, Nutrition Awareness, where she teaches other entrepreneurs how to maximize their productivity and performance with nutrition. She is the author of the book The Optimized Life: A Nutrition Guide for Entrepreneurs and co-host of the Nutrition Awareness Podcast.