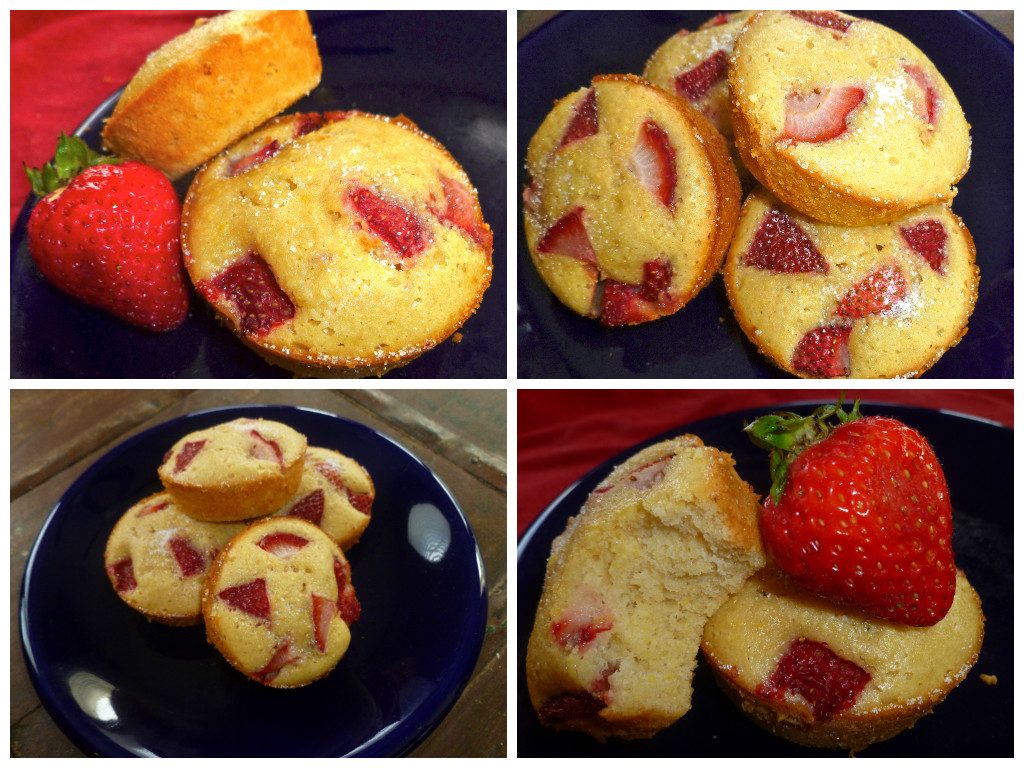 ---
YES, these TASTE even better than they look and sound. I made these to share with some of my clients this week (don't you wish you were one of my clients?). They're subtly sweet and like most of the things I bake, they work for dessert or for breakfast. I think they're more of a muffin, but cupcakes sound more fun.
I adapted this recipe from one I found in Rachel Ray's magazine while sitting in a waiting room getting my oil changed. I took some of the fat out by substituting half the oil for nonfat plain Greek yogurt and used 1/3 less sugar than the recipe called for. I also added more fiber by using whole wheat white flour and making sure that the corn meal was stone ground 100% corn meal with the least amount of processing as possible.
Strawberry Cornbread Cupcakes
Makes 24 muffins/cupcakes
1 and 1/3 cup whole wheat white flour
1/2 cup corn meal
2 teaspoons baking powder
1/2 teaspoon salt
1 cup of sugar
4 eggs
1 and 1/2 tablespoons of grapefruit zest*
1/2 cup extra virgin olive oil
1/2 cup of nonfat Greek yogurt
1/3 cup of nonfat milk
1 cup chopped strawberries
1. Preheat oven to 350 degrees. Spray 2 muffin tins with nonstick cooking spray. In a medium bowl whisk together flour, cornmeal, baking powder and salt.
2. In another large bowl, beat eggs, sugar and zest together for 5 minutes on medium speed. Beat in oil, yogurt and milk. Add in flour mixture and beat just until blended.
3. Divide mixture among muffin tins, filling halfway to the top. Sprinkle with strawberries and bake for 20- 25 minutes. Best served warm.
*You can also use lemon zest instead. Make sure you are only using the colored part of the rind, the white part is what gives the rind a bitter taste.
I want to try making these with peaches instead of strawberries next time.
Enjoy the weekend everyone!
Recipe by Megan Ware, RDN, LD. Registered Dietitian Nutritionist in The Woodlands, TX.