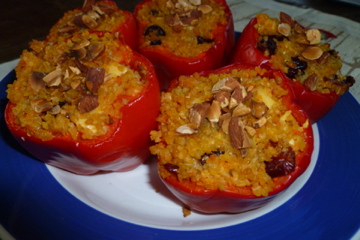 ---
Smoked gouda again… what can I say? I had some left over from the Smoked Gouda and Apricot Grilled Cheese and the flavor is definitely growing on me. These stuffed peppers are perfecto for fall!
Never heard of bulgur? It's a whole grain that I would liken to a combination of quinoa and brown rice. I got mine in a small bag at Trader Joe's for like 2 bucks, but it's also super cheap in the bulk bins at most grocery stores. If you have quinoa or brown rice on hand you could also use that as a substitute.
High in fiber and nutrients, you can also use bulgur to make tabbouleh or add it to soups or casseroles. Try my Skinny Burgers if you have any left over!
Smoked Gouda and Cranberry Bulgur Stuffed Peppers
(Makes 5 stuffed peppers in 30 minutes)
2 cups of vegetable broth
1/2 cup shredded carrot
1/4 cup onion, diced
3/4 cup bulgur wheat
1/3 cup dried cranberries
5 medium red, orange or yellow bell peppers
1/2 cup water
3/4 cup shredded smoked Gouda
2 tablespoons toasted almonds, sliced or chopped
1. In a large skillet combine broth, carrot and onion. Bring to a boil then simmer, covered, for 5 minutes. Stir in bulgur and cranberries. Let simmer for two minutes then remove from heat and drain any excessive liquid leftover.
2. Meanwhile, preheat over to 400 degrees Fahrenheit. Cut the tops off the peppers and remove the seeds.
3. Mix shredded cheese into bulgur mixture then spoon mixture into peppers. Place peppers in a square baking dish. Pour water into the bottom of the dish. Bake for 10- 15 minutes or until peppers are tender. You can toast the nuts in the oven at the same time, leaving in for only 5 minutes until golden brown. Top peppers with toasted almonds and serve.
Recipe by Megan Ware, RDN, LD. Registered Dietitian Nutritionist in The Woodlands, TX.