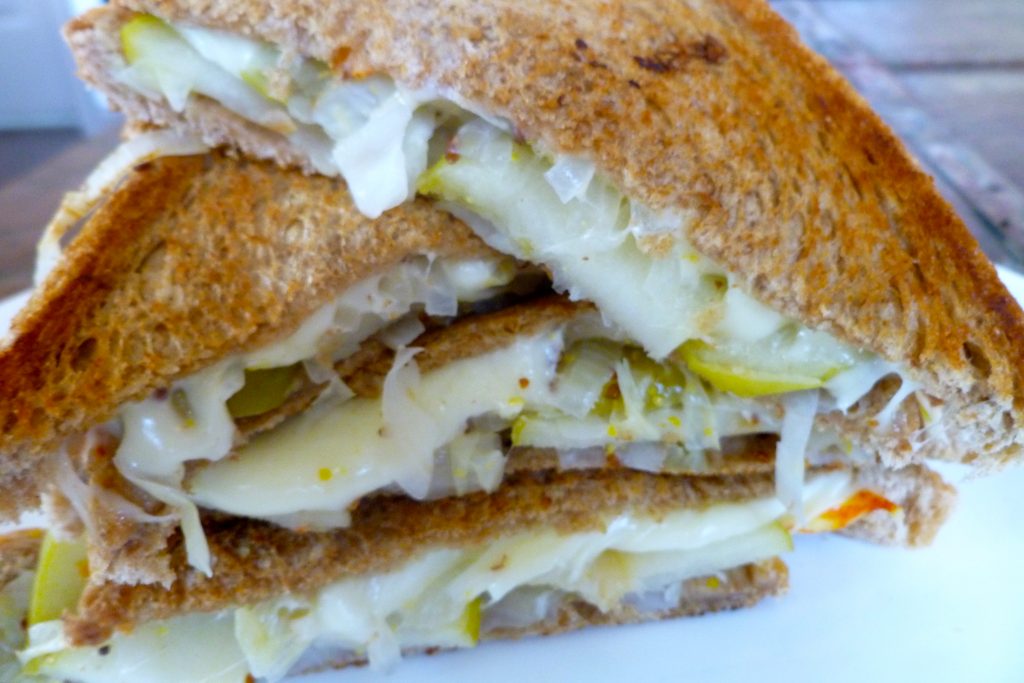 ---
Looking for an unconventional but delicious way to get in more fruits and veggies?!
Sick of the same old turkey and swiss every day? This sandwich will tantalize your taste buds with a combination of flavors new and exciting to your bored palate.  It might not seem like it all goes together, and I admit it sounded odd at first but it just works, and  it works beautifully (and healthfully!). My recipe taster was a skeptic, but now he's asking for "the apple sandwich" all the time. Plus, now is when you get the best apples because their in the peak of their season.
Muenster, Apple and Cabbage Sandwich
Makes 4 sandwiches. Start to Finish in 30 minutes or Less
1 medium onion, halved lengthwise and thinly sliced
1/3 cup apple cider vinegar
1/3 cup water
1 cup cabbage, shredded small
1 large Granny Smith apple
1 tablespoon of whole grain mustard
4 slices of Muenster cheese
8 slices whole grain hearty bread
1. Place onion a medium skillet. Add water and vinegar and bring to boiling. Reduce heat to simmer and cook for 3 minutes, covered. Add cabbage and cook for another 5 minutes. Add apple and cook for another 5 or until all is tender. Remove from heat, drain excess water and add mustard.
2. Layer apple mixture and one slice of cheese on four of the bread slices. Coat pan with nonstick cooking spray. Place the half sandwiches in the skillet, top with the remaining bread slices and weight down with another heavy skillet on top. Cook for 3 minutes on each side or until bread is toasted and filling is warm.
Per Sandwich: 296 calories, 11g of fat, 5g of fiber and 12g of protein.
Recipe by Megan Ware, RDN, LD. Registered Dietitian Nutritionist in The Woodlands, TX