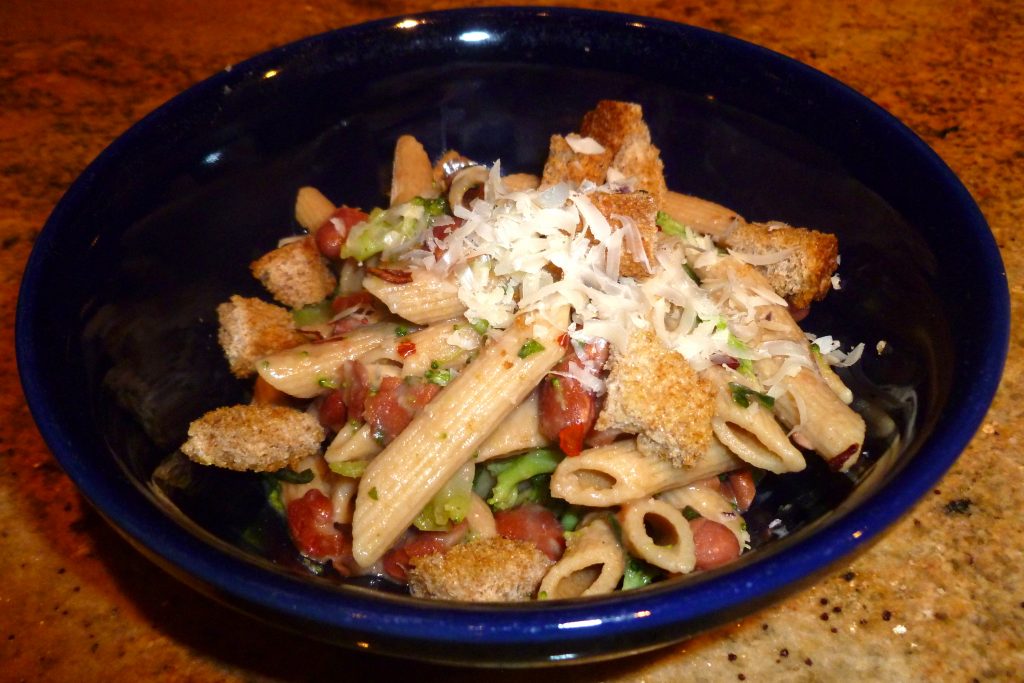 ---
Sick of the same old pasta and marinara? Try this new recipe for a healthy alternative that can feed the whole family (or just you + 4 lunches for the week) for well under $20.
Red Bean, Broccoli and Basil Pasta
Makes 4-5 servings in 25 minutes.
3 and 1/2 cups whole wheat penne pasta
2 cups broccoli
1 15 oz can red kidney beans, rinsed and drained
3-4 garlic cloves, minced
2 tablespoons olive oil
1/4 cup fresh basil, chopped
2 slices hearty whole wheat bread
1/2 teaspoon crushed red pepper
Shredded Asiago cheese for topping, optional
1. Preheat oven to 450 degrees. Spray two slices of bread lightly on both sides with nonstick olive oil spray and bake for 4 minutes on each side or until crisp. Cut into chunks for croutons. Cook pasta according to package directions. Add broccoli for the last 5 minutes of cooking to soften. Drain, but keep 3/4 cup of the pasta water. Cover pasta and broccoli to keep warm.
2. In a large bowl combine beans, garlic and oil. Mash about half of the bean mixture then stir in basil and pasta water. Add bean mixture to pasta and stir. Divide among 4-5 plates, topping with croutons and shredded Asiago cheese.
Recipe by Megan Ware, RDN, LD. Registered Dietitian Nutritionist in The Woodlands, TX.