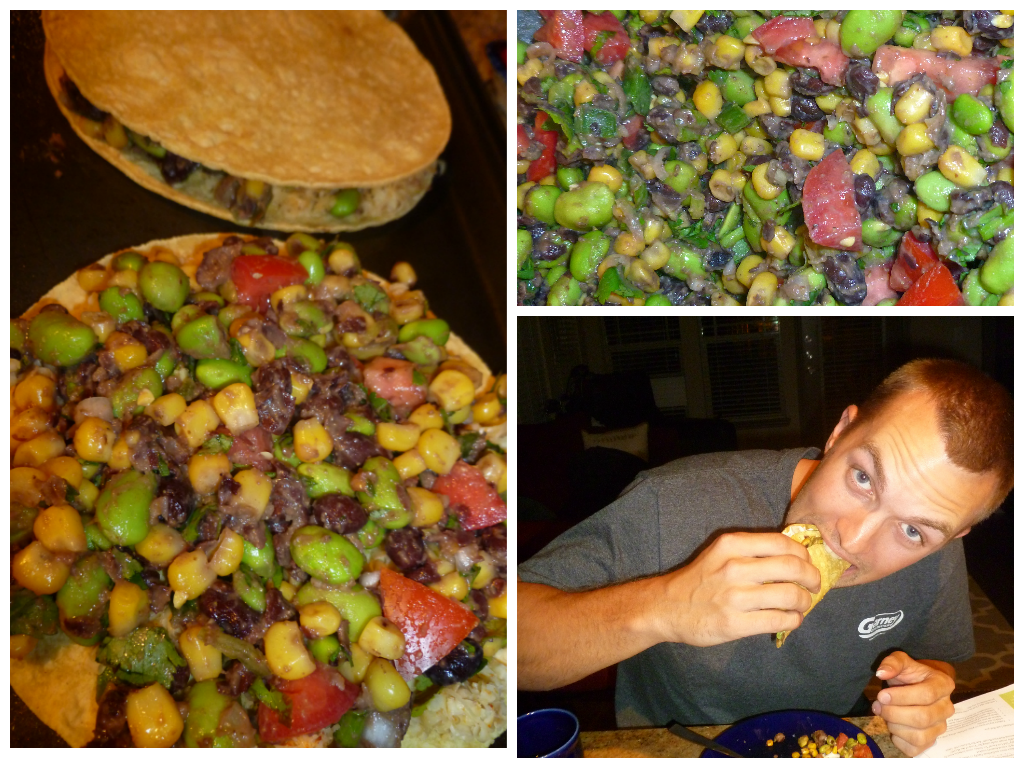 ---
A fun and healthy twist on Taco Tuesday!
Edamame, Black Bean and Corn Quesadillas with Lime Crema
Prep and Bake in 30 minutes or less
1/3 cup plain nonfat Greek yogurt
1/2 teaspoon shredded lime peel
1 and 1/2 teaspoons fresh lime juice
1/4 teaspoon honey
3/4 cup frozen shelled edamame, thawed and shelled
1/2 cup black beans, rinsed and drained
3/4 cup fresh frozen or canned corn. Rinse and drain if canned, thaw if frozen.
1/2 cup diced fresh tomato
1/3 cup chopped green onion
1 teaspoon chopped jalapeno
1 teaspoon ground cumin
1/4 teaspoon ground black pepper
8 small 6-inch tortillas. I used corn tortillas because I had some leftover but flour (whole-grain) would have worked better
1/2 cup shredded jalepeno or chipotle cheese. You can also use Monterey Jack or cheddar if you don't want the spiciness.
1/4 cup chopped fresh cilantro
1. Preheat oven to 425 degrees. Lightly spray cooking sheet with nonstick cooking spray (I use extra virgin olive oil spray). To make crema, combine greek yogurt, lime peel, 1 teaspoon of the lime juice and honey in a small bowl.
2. In a separate bowl, add black beans and lightly smash with a fork, leaving some beans whole. Add the edamame, corn, onions, cumin, pepper, remaining lime juice and 1/2 of the crema.
3. Spread four of the tortillas on the baking sheet and sprinkle cheese evenly over each tortilla. Add edamame mixture, dividing evenly among tortillas and top with cilantro, then with another tortilla. Bake for 8-10 minutes and serve with remaining crema. Cut into fourths  with pizza cutter if desired.
*This recipe was adapted from Better Homes and Gardens Fast and Healthy magazine 2013
By Megan Ware, RDN, LD. Registered Dietitian Nutritionist in Dallas, TX.