---
For those of you who frequent my blog, you probably know I am a registered dietitian nutritionist (RDN) and I work mostly in the area of weight loss. One of my personal goals in my career as a dietitian is to promote my profession as the expert in nutrition. A lot of people aren't sure if theres a difference between a registered dietitian nutritionist and a "nutritionist" or "certified nutritionist" or "health coach" but I'm here to tell you there's a HUGE difference. To become an RDN, you must first obtain a 4 year bachelor of science degree in the field of nutrition. Then you have to get into an internship program (most are 9 months), where you work as an RDN in many different fields and gain hands-on experience. After your internship you then have to pass a national registration exam (much like nursing) before you can call yourself an RDN. Then for every year you want to stay an RDN, you must complete a certain number of hours of continuing education. To call yourself a nutritionist, all you have to do is go online, find a 6 month program, pass a test and print your certificate from your home printer. This is why it is important that when seeking nutrition advice, you make sure you seek an RDN with the proper education that knows the physiology of how and why our bodies work the way they do. There is no online nutrition coaching program that can teach that in a few months. End of rant.
Anyway, I've had a lot of bloggers and students contact me with questions as to how I got involved in nutrition and what kind of job opportunities or careers are out there. As part of a new series, every week I will be interviewing a new Registered Dietitian Nutritionist in a different field, highlighting what they do on a day to day basis and how they got where they are today. The first RDN I'm featuring is a fellow entrepreneur and Dallasite, who's doing something really different and exciting with her career, but I'll let her tell you more about it!
First things first Whitney, what got you interested in the field of nutrition?
My mom – she basically did a total eating makeover for our family when I was in high school and I got really into cooking and helping her "healthify" our previous family favorites. I knew nutrition was what I wanted to major in even before I got to college.
That's awesome of your mom! I'm sure she was a great role model growing up. Now how you got to where you are today, owning your own business and working as a personal chef?
After receiving a Bachelor of Science in Nutrition from Virginia Tech University and completing my dietetic internship at Baylor Medical Center, I began my career in dietetics with a move from a small town in VA to the big city of Dallas to start my first dietitian job at Baylor University Medical Center's outpatient cancer center. Over the course of about 2 years, my love for cooking grew deeper as I was exposed to the diversity of cuisine offered here in Dallas. I had always loved to cook but had never considered making a career of it. I noticed that I was always reading recipes, cookbooks, and constantly thinking about food in terms of new ingredients I wanted to try and cooking techniques I wanted to learn.

After a while, all of my conversations with my oncology patients centered around food. I considered a counseling session with them to be successful if they left the doctor's office feeling hungry and mouths watering with thoughts of new recipes and food items they could try to combat all of the adverse side effects that came as part of their treatment. It became very clear to me that a big part of my job as a dietitian had to do with being able to clearly articulate information about anything pertaining to food from how to select it to preparation and storage if my patients were really going to be able to implement the suggestions I was giving them.

As a result of much encouragement from coworkers, family and friends, I decided to attend culinary school at Le Cordon Bleu in Dallas while working full-time at Baylor. To further practice what I would learn at school and help pay my tuition, I moved in with a family and worked as their live-in personal chef. Attending culinary school was one of the best decisions I had ever made. My interactions with my instructors and all of the hands-on practice I got confirmed again and again that working in a culinary field was exactly what I was supposed to do.

Through my experience at school and working as a live-in personal chef, I began to see that working as a personal chef was something I wanted to pursue for a career. By the time I had graduated culinary school, I had enough people interested in using me as a personal chef that I decided to do it on a part-time basis. After about 6 months of doing this, I made the decision to resign my position at the cancer center and took on more personal chef clients so I could do it on a full-time basis. Since then, I have become fully-self employed with my own business at Dietitian in the Kitchen.
Congratulations Whitney! You must be super busy. What does a typical day look like for you?
About 75% of my time and income comes from my in-home personal chef service. My goal is to cook for 4 families on 4 days per week, and a typical day work-relationship with them involves all of the following:
Initial Consultation/Assessment
Unlimited Nutrition Coaching as desired
Menu Planning
Grocery shopping
Travel to and from service area
Meal preparation of entrees with applicable sides
Meal packaging/storage
Heating instructions with menu
Kitchen clean-up

The rest of my time at Dietitian in the Kitchen is occupied with providing specialty services that include grocery store tours, in-home cooking lessons, nutrition counseling, recipe development/nutrition analysis, blogging, and cooking demos. I'm always looking for opportunities to share my love of cooking with people who are ready to have a culinary adventure with healthful cooking and eating!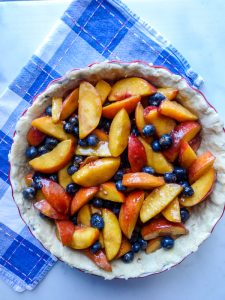 What is your favorite part of going to work every day?
I love the fact that I get to work in my clients homes as their chef – having such a hands-on job and lots of face-to-face interaction with my clients is really exciting for me. I love it when my clients ask me how to cook healthy recipes!
What is the biggest challenge of being a dietitian in your field?
Probably trying to motivate someone to move on with achieving the goals pertaining to health and nutrition. If the motivation is just not there, then it's likely they are not really ready to make a change, which can definitely be frustrating at times!
What everyone wants to know about dietitians: Do you follow any certain diet?
I tend towards a Mediterranean-type diet based on foods that come from plants and eat foods that are minimally processed as possible. I've dabbled with becoming vegetarian, but as a chef, I like to keep an open mind and free myself to be adventurous with food and not completely eliminate a food group from my diet. Moderation and choosing high quality ingredients that you feel good about eating is key!
What is one food you couldn't live without?
Chocolate! I like it in savory and sweet versions! A great pizza comes in second…
What is the top tip you give your clients?
Eat intuitively – eat when you are hungry, stop when you are full. And planning ahead is the key to staying on track with a healthy, balanced diet!
What is your favorite place to go or thing to do in your city?
I LOVE to try new restaurants – I practically spend my whole week thinking about where I will eat on the weekend (I only eat out once per week) and usually pick a place based on D Magazine's Top 100 Restaurants. AND a weekly (budgeted!) trip to Central Market is always a must….
Dallas is definitely a city for foodies! I've had some of the best meals of my life here. What advice would you give someone interested in a career in the nutrition field?
The field of nutrition is very broad and covers a wide range of specialties – find someone who already does what you think you would be interested in and then spend a day or two shadowing them to see if you can see yourself doing that job.
I want to give a big thanks Whitney for sharing and being the first in the Dietitian Spotlight series– you are an inspiration to all the culinary RDN's and RDN's to be out there, keep up the great work! Make sure to check out Whitney's blog at www.ditkfood.com!