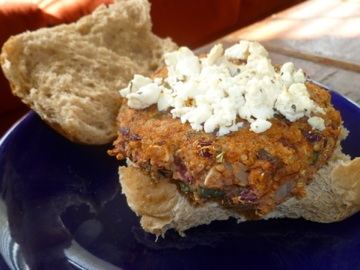 ---
Who doesn't love burgers when the sun is shining? And yes, I'm officially obsessed with quinoa. And why shouldn't I be? It's high in fiber, low in calories and packed with protein and other nutrients.
Tomato Basil Quinoa Burgers
Prep time: 35 minutes. Makes 4 Burgers
1 cup of cooked quinoa
1 can of kidney beans, rinsed and drained
1 teaspoon extra virgin olive oil
3/4 cup fresh mushrooms, diced
1 small onion, diced
1/4 cup old-fashioned oats
4 tablespoons tomato paste
1 teaspoon parsley
1 teaspoon oregano
1/2 teaspoon black pepper
7 fresh basil leaves
Feta cheese for topping (I used Athenos reduced fat tomato and basil)
4 whole grain hamburger buns
1. Cook quinoa according to package directions. Preheat oven to 350 degrees. Heat olive oil in a skillet over medium heat. Add mushrooms and onions and saute about 10 minutes or until tender. Meanwhile, place beans in a large bowl and mash with a fork or potato masher.
2. Add oats, veggies, tomato paste, quinoa and spices (all remaining ingredients except cheese) to the bowl with the beans. Mash together with fork or feel free to use your hands. Form four patties and place on baking sheet lightly sprayed with olive or canola oil.
3. Bake for 10 minutes on one side. Flip and add desired amount of feta. Bake for an additional 10- 12 minutes. Serve on whole grain buns.