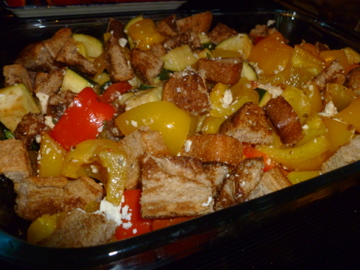 ---
It's summer, so it's salad season. But aren't you tired of those same old boring salads? I know I am, so here's a twist that everyone will love, especially the guys since you get to use the grill! I often tell my clients to steer clear of croutons, but as with most things if you make them at home they can be part of a perfectly healthy meal.
Grilled Tuscan Salad with Balsamic Croutons
– 5 slices of whole wheat bread

– 3 bell peppers (I used a combo of yellow and red), quartered and seeded
– 2 small- medium zucchinis,quartered lengthwise
– 1/3 cup balsamic vinaigrette dressing
– 3.5 oz feta cheese with tomato and basil (Athenos has a reduced-fat version in a 3.5oz container)
– 5-6 fresh basil leaves, thinly sliced
Note: unfortunately it started raining on me, so I had to use the oven instead of the grill this time, but it worked just as well!
1. Preheat oven to 375 degrees. Place vegetables on baking sheet and brush with balsamic. Brush bread on both sides and place on baking rack. Bake for 15 minutes or until vegetables are tender-crisp and bread is crisp on both sides (flip over once during baking).
2. Cut bread and veggies into 1 inch pieces and place in a large casserole dish. Add feta and any remaining dressing. Top with basil and serve.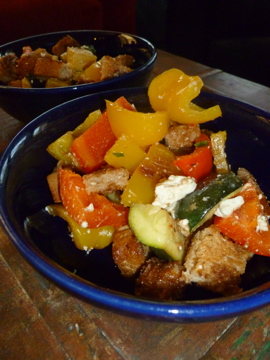 Do you have any innovative salad recipes for me to try?