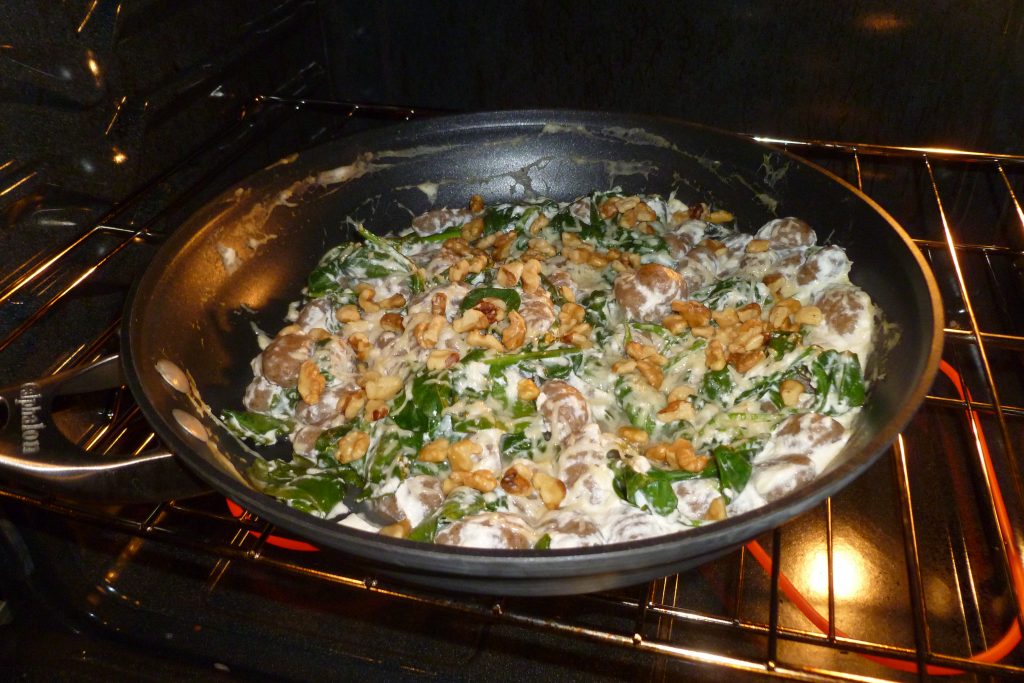 ---
Most of you know that if something has a white creamy sauce, it should probably be avoided. Your average plate of fettucini alfredo at a restaurant will cost you around 1220 calories– an entire days worth. Not to mention the 75g of fat, which is more than you should be taking in in an entire day in one sitting. Of course, that creamy goodness is hard to resist. But what if you could
have an alfredo with less than a third of the calories and a fourth of the fat? As Rocco Dispirito would say, "You can. The only catch is you have to make it at home!" My secret: nonfat plain greek yogurt in place of butter and cream. Zero fat, twice the protein. Check it out:
Whole Grain Gnocchi Alfredo with Spinach and Walnuts
6 cups fresh spinach
16 oz whole wheat potato gnocchi
1/4 cup shredded mozzarella
1/4 cup shredded parmesan
4-5 fresh basil leaves, chopped
1 cup non fat plain greek yogurt (I use Fage brand)1/2 teaspoon english mustard or ground mustard
1/8 teaspoon nutmeg
1/4 cup walnut pieces
1. Preheat oven to 350 degrees. Add gnocchi to boiling water and cook until gnocchi floats (3-5 minutes). Place spinach in a strainer and pour boiling water (with gnocchi) overtop to wilt spinach.
2. In a large oven-proof saucepan over low heat, stir together the yogurt and mustard. Add the parmesan cheese and basil. Cook and stir until you have a smooth sauce (3-5 minutes). Add the nutmeg, gnocchi and spinach and cook for an additional 2 minutes.
3. Add mozzarella cheese and place in oven. Bake for about 5 minutes until cheese is golden. Top with walnuts and bake for another 2 minutes.