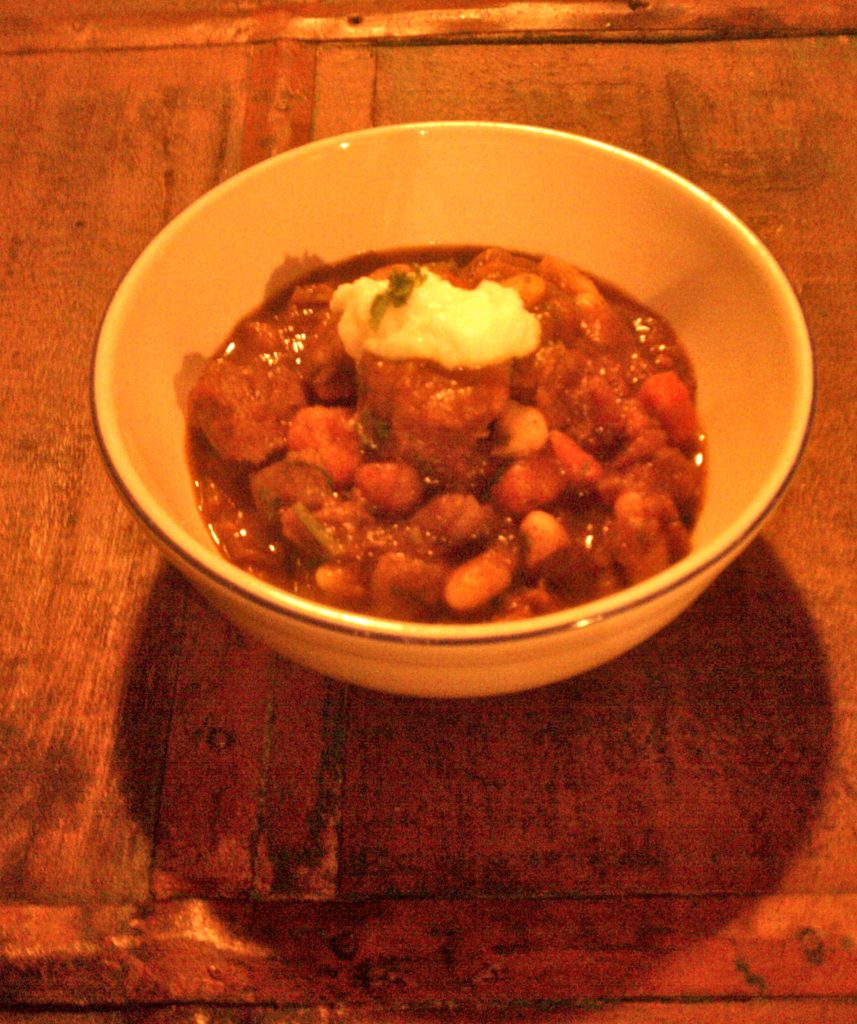 ---
I know I usually post vegetarian recipes, but this has been a special request in my house pretty often this winter. This chili is so different, I can guarantee you've never tasted anything like it. There are tons of healthy veggies and spices– this is one of those recipes that helps keep you healthy and warm (and happy) in the cold winter months.
Sweet Potato and Pork Chili
1 tablespoon olive oil
1 large white or yellow onion, chopped
1 medium carrot, chopped
2 celery stalks, chopped
3 garlic cloves, minced
1 large sweet potato, peeled and diced
3/4 lb pork loin, cut into 1/2 inch cubes*
1/2 teaspoon freshly ground black pepper
1 tablespoon chili powder
1 tablespoon cumin
1 teaspoon unsweetened dark chocolate powder**
1 teaspoon dried oregano
1 teaspoon ground cinnamon
2/3 cup vegetable stock or broth
1 14oz can diced tomatoes
1 chipotle pepper in adobo sauce,diced***
1 tablespoon adobo sauce
1 15oz can white navy or cannellini beans
1/2 cup chopped fresh cilantro
nonfat plain Greek yogurt for topping (optional)****
1. Combine olive oil, onion, carrot, celery, garlic, and sweet potato in a large pot and cook over medium heat until tender.
2. Sprinkle the pork with pepper and add to pot, stirring frequently and cooking until browned, about 5-10 minutes.
3. Add the chili powder, cumin, dark chocolate powder, oregano, and cinnamon. Stir and cook 2 minutes. Add the vegetable stock or broth, tomatoes, chipotle pepper and adobo sauce. Bring to a boil.
4. Reduce heat to low. Cover pot and simmer for one hour, stirring occasionally.
5. Add the beans and cilantro, cook an additional 3 minutes. Serve with a dollop of yogurt if desired.

* You can use boneless or bone-in pork loin, whichever you prefer. If you use bone-in,separate the meat from the bone and add the bone to the chili when you add the meat to add more flavor. Discard at the end of cooking.
** Yes, you read that right, chocolate! Don't worry, it won't make your chili taste like chocolate, and powdered chocolate is more bitter than sweet. It just adds a silky texture to the dish. I was a skeptic too, but I'm so glad I tried it!
*** You can find chipotle peppers in adobo sauce in the ethnic aisle at most grocery stores. They come in small cans.
*** With more protein and less fat, nonfat PLAIN Greek yogurt is a great substitute for sour cream. It has a very similar taste and consistency, most people don't even notice the difference.