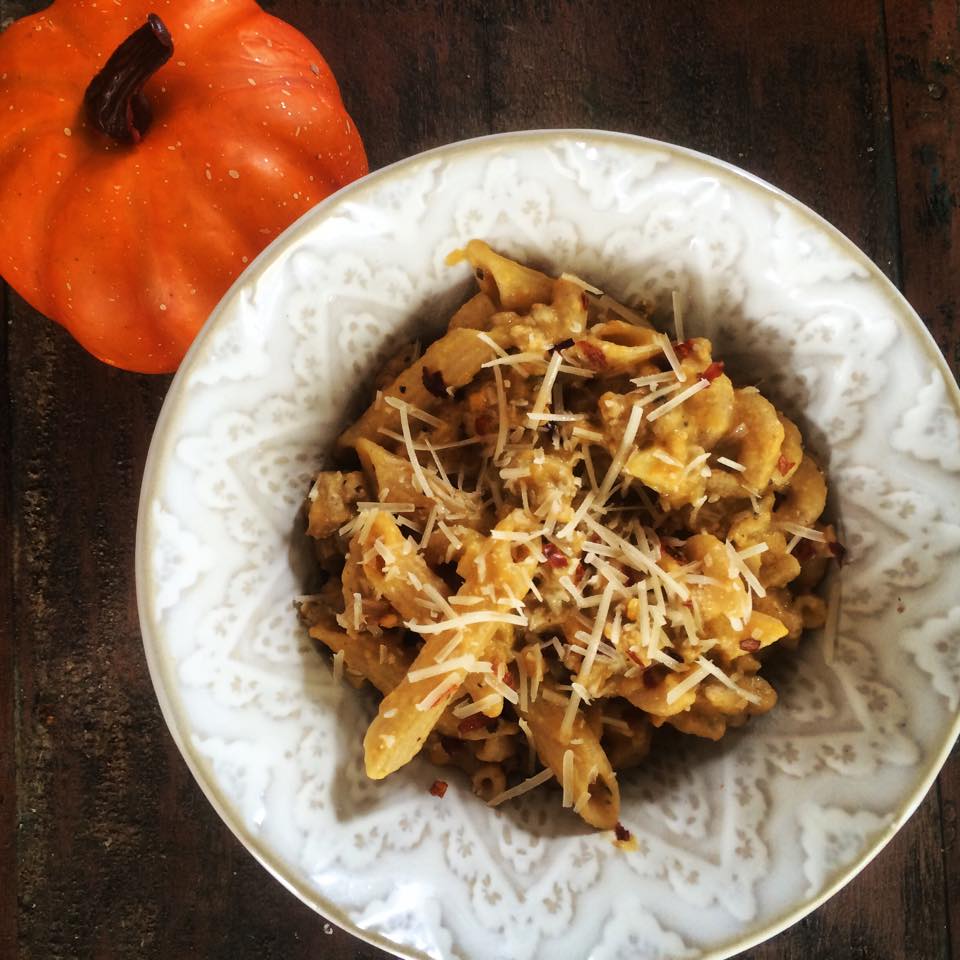 ---
What, you thought the pumpkin obsession was reserved for lattes and desserts?
No way. Pumpkin is making it's way into your dinner too.
Why the pumpkin obsession? Well besides the taste, it offers some great health benefits: a half cup provides 100% of your vitamin A needs for the day and as much potassium than a banana. Like other orange veggies (sweet potatoes, carrots, and butternut squash), pumpkin contains the anti-oxidant beta-carotene, a proven cancer-fighter.
It isn't officially fall until I've made this Spicy Pumpkin Pasta. This is Will's favorite dish that I make, and he asks for it again and again. I try to steal clear of making anything with meat at home and stick to veggies and fish, but I have a feeling that this is one of those recipes that'll never get retired.
Canned pumpkin alone is not at all sweet, you just have to make sure you are buying canned pumpkin not canned pumpkin pie filling. This creamy sauce is perfectly balanced with the spice from the red pepper.
Spicy Pumpkin Pasta Recipe
Ingredients
8 oz whole wheat penne pasta
1 lb ground italian sausage
1 tbsp olive oil
2 shallots, chopped
4 garlic cloves, minced
1 cup vegetable or beef broth
15 oz canned pumpkin (1 can)
1/2 cup half and half
1 teaspoon crushed red pepper flakes
1 teaspoon ground cinnamon
1/2 teaspoon black pepper
1/3 cup grated parmesan or romano cheese (not the powdered stuff )
Instructions
Brown the sausage over medium heat in a large skillet. Drain the sausage to remove excess fat. Set aside.
Meanwhile, cook pasta according to package directions. Drain and set aside.
Heat olive oil over medium heat using the same skillet and add garlic and shallots. Saute for 3 minutes.
Stir in broth, pumpkin, half and half and seasonings.
Reduce heat. Simmer 10 minutes.
Stir in cooked penne, sausage, and cheese and heat through. Serve topped with grated cheese if desired.