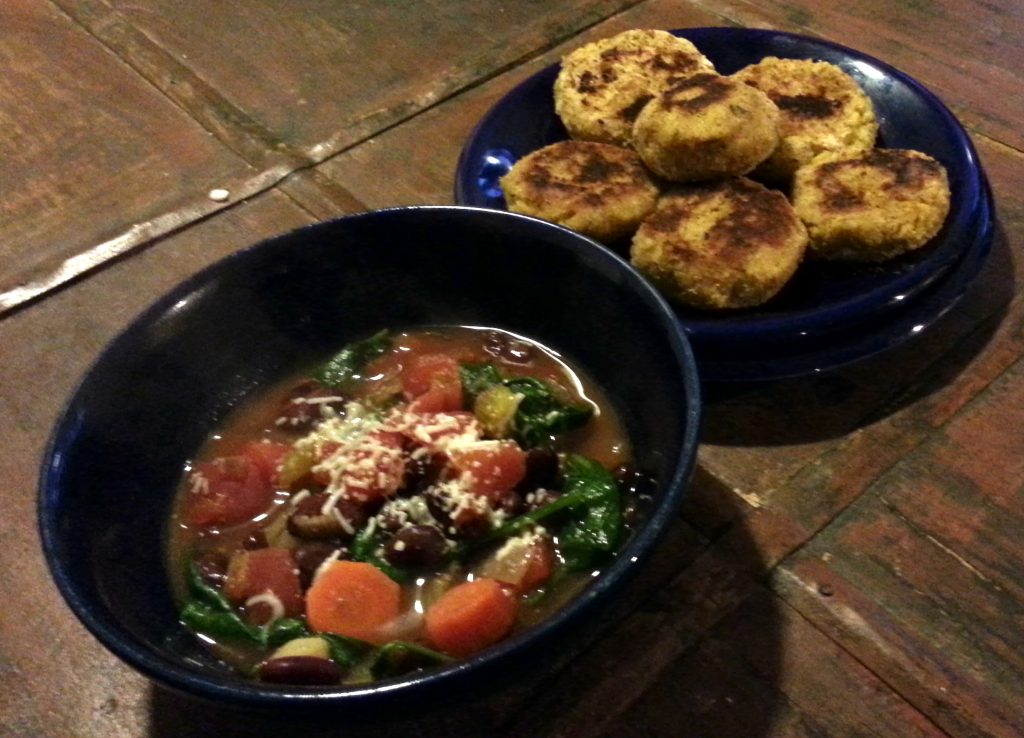 ---
You don't have to be vegetarian to be healthy. If you have a goal to decrease your meat consumption, start with just one day a week. Make every Monday a "Meatless Monday." Taking one day to substitute meat for vegetables in your meals is a great way to consume less calories, get creative in the kitchen and add variety to your meal routine. Not to mention the benefits for the environment and your heart!
I'm not saying meat is bad for you, I'm just saying vegetables are really good for you.
This Monday, try out one or both of these recipes. They go great together!
Easy Tuscan Bean Soup
1 tablespoon olive oil
1 onion, chopped
1 medium carrot, chopped
1 celery stick, chopped
1 teaspoon dried thyme
10 sprigs of fresh rosemary (if desired- can omit or use dried rosemary)
2 garlic cloves, crushed or minced
1 15oz red kidney beans (white beans work fine too), drained and rinsed
2 cups vegetable stock or broth
1 14oz can diced tomatoes (do not drain)
Handful of shredded spinach (or kale)
Fresh parmesan or asiago cheese (for topping, if desired)
1. Heat olive oil in a large saucepan over medium heat and add onion, carrot, celery, and thyme. Cook until softened. Add garlic and beans and cook for an additional 1-2 minutes.
2. Add vegetable stock and tomatoes. Lower heat and simmer for 15 minutes. Stir in a handful of spinach and cook until wilted. Serve with shredded parmesan or asiago.
I love the smell of fresh rosemary heating in the pan!
Curry-Spiced Chickpea Cakes
If you're not familiar with chick peas, they are essentially the same as garbanzo beans, and are what hummus is made from. They are high in protein and fiber, and go great in salad. Curry is a powerful spice known for it's many health benefits, one being its ability to boost the immune system, which makes it a great spice to use throughout the winter months to keep you and your family healthy.
1 onion, diced
2 tablespoons olive oil
2 garlic cloved, diced
14 oz can chick peas, rinsed and drained
1/2 cup breadcrumbs
1 teaspoon curry powder
3/4 cup whole wheat flour
1 beaten egg
1. Heat 1 tbsp olive oil in a skillet over medium-high heat and add diced onion until softened. Add garlic and cook for 1-2 additional minutes. Put mixture in a food processor with 1/4 cup of the breadcrumbs and curry powder.
2. Blend into a paste, then form 8 cakes. Heat the other tablespoon of olive oil in the same skillet. Dip the cakes in flour, then egg, then coat with the remaining bread crumbs. Add the cakes to the pan, cooking until golden brown and crispy on each side (approximately 5 minutes).
PS: It's January 7th, seven days since you made your New Years Resolution. If you got de-railed over the weekend, now is the time to get back on track. Write down your goals and post them on your refrigerator or desk where you can see them daily.