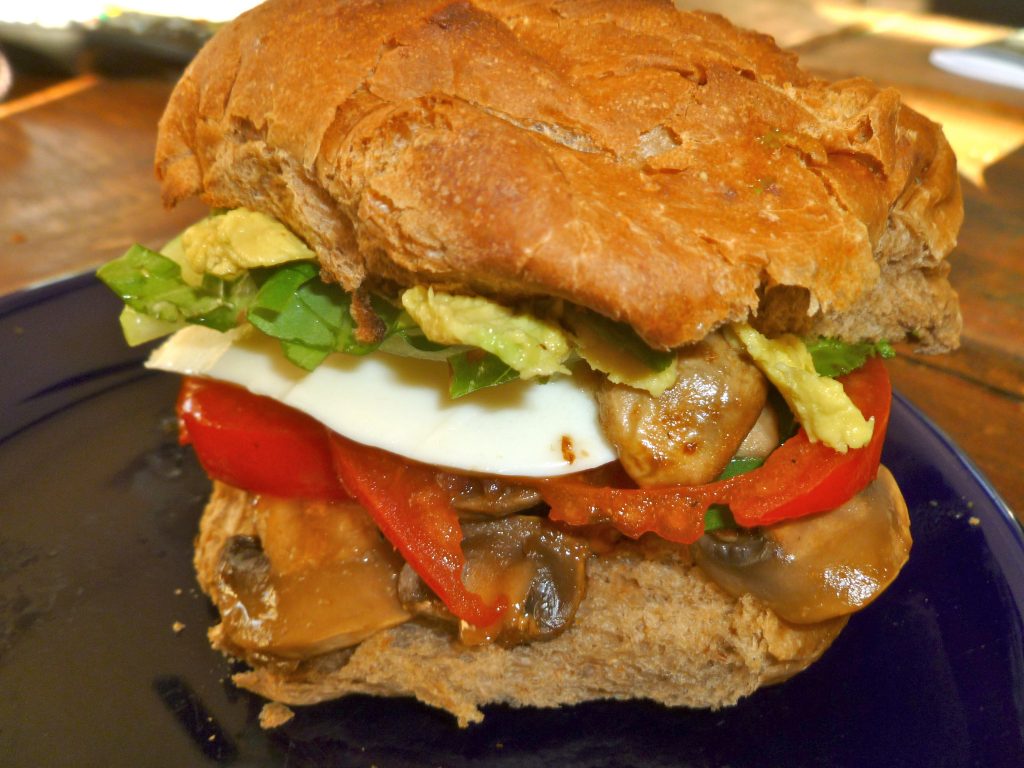 ---
Looks can be deceiving. Despite resembling a greasy high-fat burger, this is actually a very healthy veggie sandwich. The best veggie sandwich you've ever had.
I call it indulgence on a diet.
Toasted Caprese Slamwich
Prep Time: 10-15 minutes. Serves 4
10 oz sliced mushrooms
1/2 of a small onion, sliced
4 tablespoons balsamic vinaigrette
2 small-medium tomatoes, sliced thick
4 oz fresh mozzarella
1 avocado
1/2 of a cucumber, peeled and sliced thin
6-7 fresh basil leaves, chopped
4 whole wheat hamburger buns
1. Place 2 tablespoons of the balsamic, mushrooms and onions in a large skillet over medium-high heat and saute until browned and tender. Meanwhile, toast hamburger buns in a toaster or at 350 degrees in the oven.
2. Push mushrooms and onions aside on skillet. Add the remaining 2 tablespoons of balsamic and place tomatoes over the dressing. Saute for 30 seconds to a minute on each side. Immediately layer onto the bun: mushrooms and onion, tomato, fresh mozzarella (sliced), cucumber and basil. Spread the avocado on the top side of the bun. Combine and then get the napkins ready!