---
Low-cal Veggie Bake
1 tablespoon olive oil
1/2 small eggplant, cut in half and sliced
1 small zucchini, cut in half and sliced
1 small squash, cut in half and sliced
1 red bell pepper, sliced
1 onion, sliced
1 cup sliced mushrooms
1 shredded carrot
1/2 teaspoon garlic powder
1/2 teaspoon black pepper
1 sleeve of whole grain saltines, crushed
6 eggs
1/2 cup fat free half and half
1/2 cup skim milk
1/2 cup parmesan cheese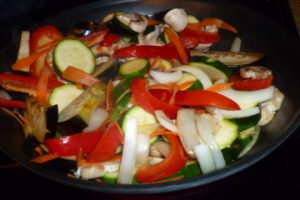 1. In a large skillet, heat olive oil over medium-high heat. Add all vegetables and cook 12 minutes or until tender. Add garlic and pepper. Meanwhile, in a separate bowl, whisk together eggs, milk and half and half.
2. Spray 2 quart baking dish with nonstick cooking spray. Line the bottom of the pan with the crushed crackers. Layer veggies over crackers. Stir 1/4 cup of parmesan in with the egg mixture and pour over vegetables. Refrigerate for one hour.
3. Bake for 50 minutes at 325 degrees, uncovered, until knife comes out clean from center. Top with remaining parmesan cheese.