Description
Ready to Kick Your Sugar Cravings & Finally Achieve Your Health & Weight Loss Goals?
I hope the answer is YES!
I know how hard it is to overcome sugar cravings. I used to think it was impossible and even though I was doing everything right when it came to weight loss, my sweet tooth sabotaged my progress.
It used to be it incredibly hard for me to say no to snacks, even when I wasn't hungry. Whether it was free donuts in the break room, a party table with desserts and snacks, or ice cream in the freezer, I had no willpower (or so I thought!)
It was not until I learned how to modify my diet, mindset, and lifestyle in ways that set me up for success. Small, consistent changes to my day-to-day life and eating plan made a world of difference.
Now, I don't stress about sugar. In fact, I hardly even think about it because my cravings are virtually gone!
I can enjoy a meal without needing dessert. Potlucks don't intimidate me because I can enjoy a treat without stuffing myself. I don't feel guilty after weekends because I didn't overeat sugar, and I can walk past a cookie tray without having the urge to grab one.
My sweet tooth is gone and my cravings are under control, and I've helped my in person coaching clients accomplish the same results.
Now I want to share how I did it with YOU using this online platform!
This course will improve your life if you…
Constantly craving something sweet after meals
Can't say no to sugar during the week but completely binge on weekdays
Are unable to turn down sweets at work or at home
Find yourself craving sugar midday and need a quick 3 pm pick-me-up snack
Obsess over the cookies or candy in the pantry and can't stop at just one
Feel out of control around food, sugar, and snacks
Want to lose weight but can't because of your habitual sweet tooth
This virtual course led by Registered Dietitian Nutritionist Kait Richardson will teach you the WHY behind your pesky sweet tooth and how to adjust your diet, mindset, and lifestyle so you can kick the sugar cravings for good.
In essence, you'll discover your triggers and how to overcome them once and for all through this course.
Within just one day of completing this quick course, you'll be able to implement practical sugar-crushing strategies so you can finally stick to your healthy eating plan without giving in to the temptation of sweets or refined snacks.
"What Results Can I Expect?"
Within just one day of implementing the strategies outlined in this course, participants will experience…
A noticeable decrease in sugar cravings (if any at all!)
Increased willpower to say no to unnecessary sweets and treats
Improved mood and energy levels
An easier time sticking to healthy eating plans and weight loss goals
A sense of food freedom because old temptation won't be as enticing as they once were
"How Does the Course Work?"
Inside three modules, you'll learn the top 10 causes of sugar cravings, what causes them, and strategies to crush them!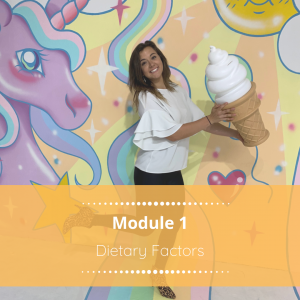 In Module I, we'll dive in deep as to how your diet can influence your sugar cravings. You'll learn how to structure your meals to help you lessen cravings, feel energized, and stay satisfied. You will also understand which macronutrients you need and in what ratios to help you manage cravings.
Submodule 1.1: Controlling Blood Sugars
Submodule 1.2: How to Increase Protein
Submodule 1.3: Don't Fear Fats
Submodule 1.4: What About Fiber
Submodule 1.5: To Snack or Not to Snack?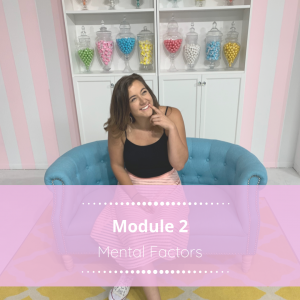 In Module II, we'll explore psychological reasons why you rely on sugar and different strategies to overcome them. You'll learn how to structure your environment to lessen temptation, identify internal triggers, & create healthy habits to last a lifetime. Saying no to sweets will be easier regardless of circumstance.
Submodule 2.1: How to Set Your Environment up for Success
Submodule 2.2: Overcoming Emotional & Stress Eating
Submodule 2.3: Kicking the Sweet Tooth & Snacking Habits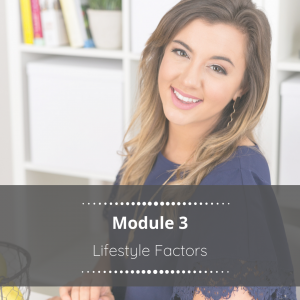 In Module III, we're exploring commonly overlooked lifestyle factors contributing to sugar cravings. Throughout this module, you'll understand how dieting can make you overeat, how sleep impacts hunger, and effective methods for meal planning so you don't fall off track. These submodules will help tie up loose ends.
Submodule 3.1: Artificial Sugars and Diet Foods
Submodule 3.2: Chronic Sleep Deprivation
Submodule 3.3: Poor Planning
"Sounds Great! How Long Will It Take to Complete the Course?"
The course can be consumed from start to finish within just one day! In other words, you can begin to see improvements in your sugar cravings as soon as you implement the course material. You can start, stop, and skip through each module at your own pace. In addition, you can rewatch to any of the submodules at anytime as a refresher.
Multitaskers rejoice!
If you don't have the time or patience to watch each module, you can listen to the audio version while you get things done. For instance, you can soak up the knowledge while you walk the dog, drive to work, or clean the house. This saves you time and gets you working towards kicking your sugar cravings and achieving weight loss goals sooner.
"Any Other Perks?"
You Freakin' Bet.
Once you purchase the course, you'll get access to private support group on Facebook. As a result, you'll be held accountable to your goals by a community of other health-focused individuals who will help you kick your sugar cravings.
You'll also have access to ask me questions on the page as I'll be popping on regularly to make sure you're reaching your goals.
The conclusion of the course also has a bonus surprise exclusive to Bye, Bye Sugar Cravings participants to help you stay on track for the long haul!
So what are you waiting for?
If you're ready slay the sugar dragon, overcome your sweet tooth, and finally get control of your eating habits so you can hit your weight loss goals, increase your energy, and improve your mood, let's do this!
I'll see you inside the course!
If you have any more questions, please feel free to reach out at kait@orlandodietitian.com.
Follow Kait on Instagram @nutrition.awareness and like us on Facebook.