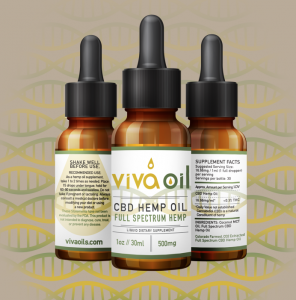 Free Shipping – No minimum order
Click here to buy and use code NTRAWR for 10% off
VivaOil partners with local Colorado farmers who have bred specific strains of hemp that maximize cannabinoid content. Independent, third party lab testing is conducted to ensure a highest quality product that you can trust.
Preliminary reports show CBD oil can provide relief of common digestive issues such abdominal pain, nausea, and diarrhea for those who suffer with Irritable Bowel Disease (IBD) or Crohn's Disease. There is emerging evidence that CBD can be part of an effective treatment for anxiety and inflammatory pain.
There are also a strong associations between CBD and the treatment of epilepsy & seizures, Parkinson's disease, and chemo-induced nausea.  For women struggling with PCOS and/or menstrual cycle discomfort, CBD oil can also be an effective treatment.
Read more about our personal experiments with CBD oil and potential side effects here.
Or, listen to Nutrition Awareness Podcast #6, where Kait sat down with fellow dietitian and CBD expert Macie Kurelia to talk about CBD changed her life. They also discuss the relationship of CBD oil and nutrition therapy, legalities, how to administer CBD oil, and how to choose the best product.